How to set or reset Tenda N150 router Admin & Wifi Password
Tenda WiFi Routers
Tenda builds Wifi Routers for everyday use. Here we're showing how to set Admin and Wifi Password for a newly purchased router and reset the already existing passwords. Most Tenda NAT routers have almost common administrative interface for changing passwords. So, although we are demonstrating with Tenda N150 router this is applicable for any most routers.
WiFi Routers have two passwords
Wifi routers comes with two passwords. 
Admin Password: This password is to login into the router's administrative interface
Wireless Password: This password is to connect any wireless device with the router.
Setting or Resetting passwords
New WiFi routers comes with default IP address and default admin & WiFi passwords. Router manufacturer mentions this details somewhere on the router or packing of the router. For tends N1500 router please refer the backside image as follows to get default admin password and IP address.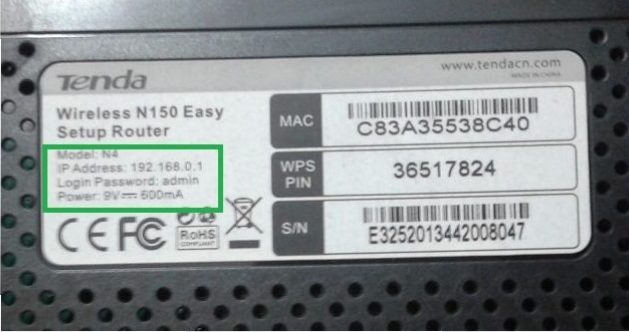 Factory details for new Tenda N1500 routers are as follows
Router IP: 192.168.0.1  (You need not to change this at any stage)
Default Admin Password: admin   (You must change this for security)
Default Wireless Password: No Password (Open) (Must Set password)
Resetting Admin password
If you've already changed the admin password of your router and forgot it please follow this section to reset it.

Power on your router

Press & hold the above mentioned reset button until all green lights on router front flashes simultaneously. (You need to press and hold it for ~30 seconds)

Power off and on the router
Above procedure will factory restore your router. All settings will be set back to default settings. Then you can access administrative interface with default password details printed on your router.
Function of Mentioned ports
WAN Port: Connect external network (Supplied by ISP or Institution) into this port
LAN Ports: This ports for connecting LAN devices like Laptop etc. This ports provide same functionality as WiFi over wired network.
Reset/WPS Button: For resetting the router. And for connecting a device using WPS (not discussed in this article)
Power cable connector: Connect power cable here.
All ports and switches are usually properly marked on the router. For further details please refer your router's manual.
Login into Router's Administrative Interface 
You need to login router's administrative interface to either changing admin password or WiFi password.
Step 1: Power on and connect your router with LAN device
Power on your router. Connect the router with a laptop using any of the LAN port. (You may connect the router using WiFi also, as we've mentioned both of them work similarly. However the router will be disconnected after each critical change and you need to reconnect it with WiFi. So, we recommend using LAN ports for this steps)
Step 2: Browse router's IP address with any browser
Browse the router's IP address with any browser i.e. http://192.168.0.1 for this example. Remember: Use direct connection & don't use any proxy to connect this page. For more information regarding proxy settings please check this.)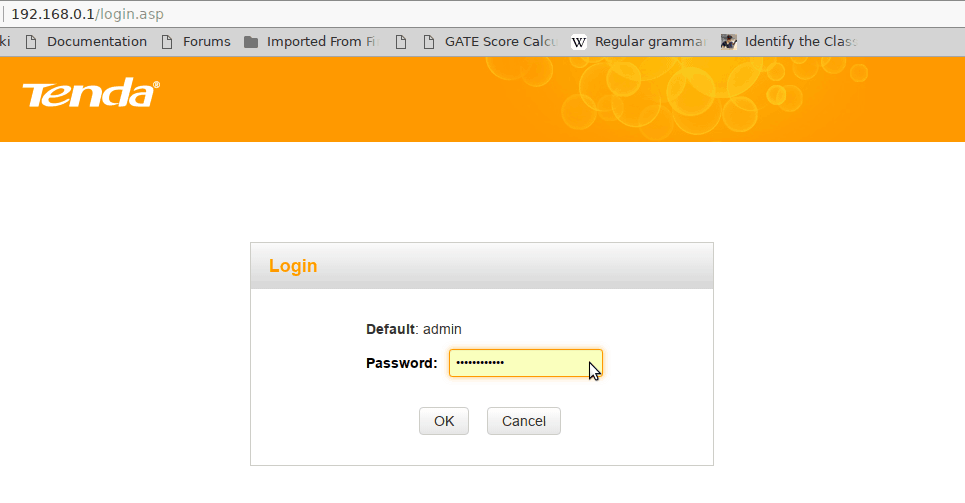 Step 3: Select "Advanced"
Use your admin password to login. (Either default one or previously modified one). Select "Advanced" from next screen. Following administrative interface will open.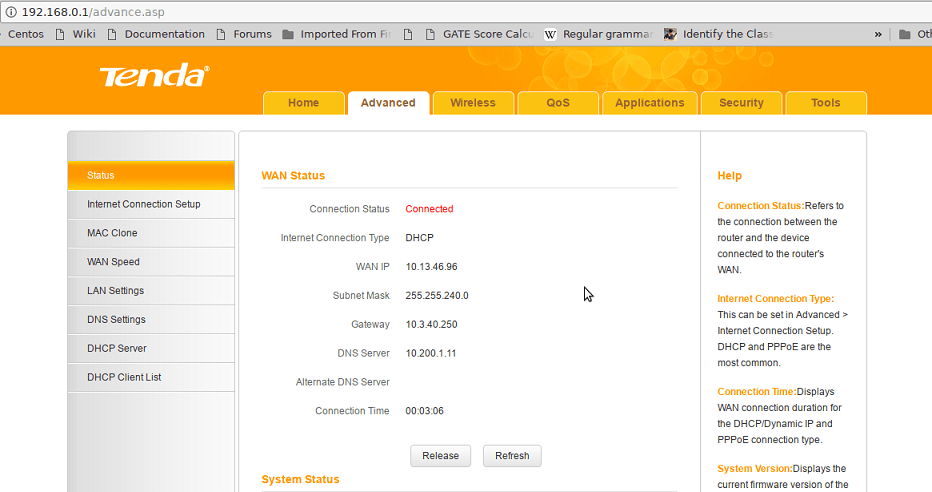 Setting or Resetting WiFi password
Step 4: Select "Wireless" tab and go to "Wireless Security"
Go to "Wireless" top from upper panel of the above screen and then select "Wireless Security" from left panel as follows. Also please note down the "Primary SSID" from "Wireless Basic Settings" in left panel. This SSID is your WiFi name. You may also change it from the "Wireless Basic Settings" screen.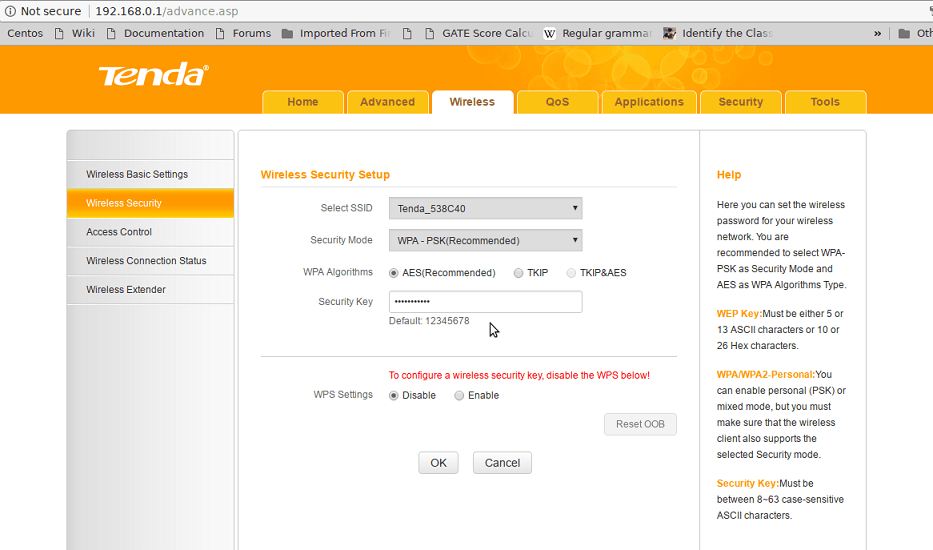 Step 5: Select Security mode and set password
Disable WPS settings. You may enable it after setting the wireless password, if you wish.
Select the WPA-PSK (Recommended) security mode. (You may opt for other security mode depending on your need).
Select WPS Algorithm as AES.

Put your new WiFi password in "Security key" and click "Ok" bellow. 
Afterward please use the new WiFi password to connect any WiFi devices like laptop cell phone etc.
Changing Admin password
Select "Tools" from upper panel and then go to change password from left panel.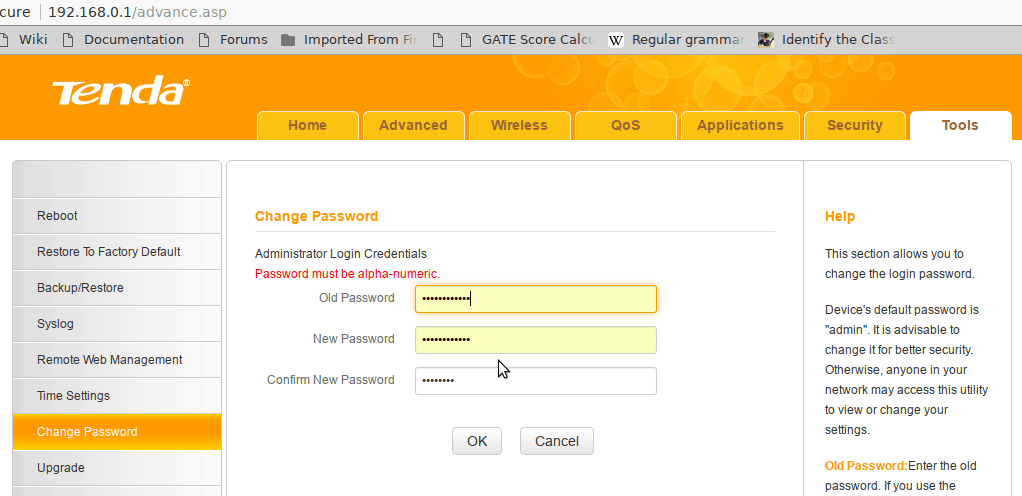 Type Old admin password, then New password and Confirm the New password click "OK". Afterward please use new admin password to login to the administrative interface using router's IP address.
This finishes setting and resetting admin and WiFi password in Tenda N1500 router. We recommend setting strong admin and WiFi password for your wireless router. For any confusion please leave your comment. Thanks for reading.
Now you can also write articles and ask Questions in Serverlog.net. Please click "Ask Question" or contact admin at admin@serverlog.net for writing full articles.
Hits: 930