Find IP address in Windows PC-Windows XP,Vista, 7, 8, 10
This tutorial will show how to find IP address of a Computer in Windows platform using Network and Sharing center, command prompt and online method. As most of the 3G wireless internet provider (like Vodafone etc.) use NAT to provide multiple connection using a single IP address the online method provides a way to find the actual shared IP address of your internet connection.

Method 1: From Network and Sharing Center
Right Click on the Network Symbol at the Right button of your Task Bar, Then Click (Left click) on "Open Network and Sharing Center"
Click on the active network connection from Network and Sharing Center
Click Details From the Network connection status Box

NOTE: This Network status box shows network usage also in Bytes. Your total usage will be Byte Sent + Received

Your Network IP address (Both IPv4 and IPv6), Default Gateway and DNS address will be shown as follows
Method 2: Using windows command promt
Search "cmd" in start menu and click to open it. Type "ipconfig" and hit enter. Output list will display the status of all internet adepter present in your system including disconnected and virtual connections. Find the one not showing "Media Disconnected". That adopter will show your actual IP address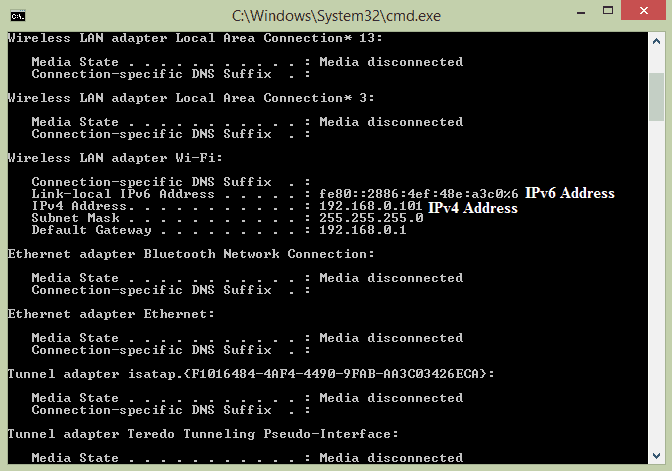 Method 3: Online Method
With some of the following and many other sites it's possible to find the actual IP address of your system. If your system is connected using a NAT or VPN the actual IP address of your system will be listed.

network-tools.com

 Compairing the IP obtained by this method with previous one you'll be sure that you have an Unique IP address (when same IP is obtained in all three methods) or you are sharing a NAT IP.

Hits: 134