Why Internet Connection is not Working 30 Reasons Explained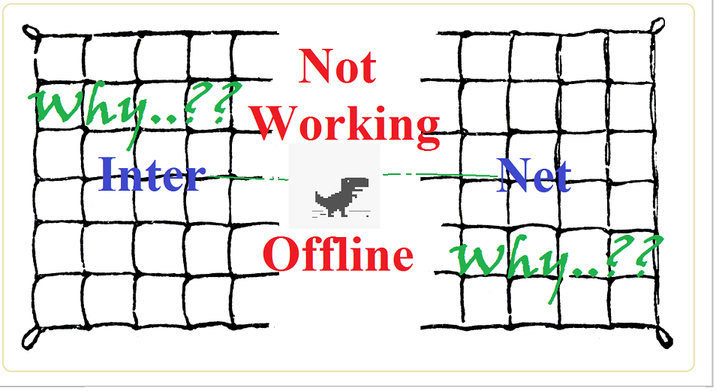 Internet is an integrated part with today's life. Imagine you've just wake up in morning. Waiting like crazy for a reply from someone in Facebook or Whatsapp. Then found your Internet connection is not working..!! How much irritating it will be..!! But indeed this happens frequently. So this post will discuss several possible reasons for why Internet connection may not work.
Troubleshooting Internet connection a quite different from device to device. They use separate technology to connect Internet. This mostly differ from Laptop and Desktop to Wireless mobile devices. So this post is divided into two parts
Part 1: Troubleshooting Internet connection for Wired Devices
Part 2: Troubleshooting Internet connection for Wireless and Mobile devices.
Internet connection is not Working with Wired Devices Desktop Laptop
Hardware Issues
 Connecting LAN Cable is disconnected or lose connection: Connecting cable between PC or Laptop and Modem or LAN wall socket may easily get discconnected and ends up internet connection. Check your connection jacks. In most laptops and desktops there is indicator lights beside LAN sockets. This indicator lights blink in yellow or green color while LAN connection is working.

 Faulty LAN cable: Broken LAN cable will definitely break your Internet connection. Old cables sometime slow down connection speed also. Check with a new cable once if it works.

Use good quality CAT6 LAN cable instead CAT5 one: LAN cables are available in two different quality CAT5 and CAT6. CAT6 are of better quality than CAT5. Consider purchasing CAT6 cable of good brand like Mollex, DLink etc. Those are a bit costly but lasts long and increase speed of Internet connection

Internet Pack Expired: You may forget to recharge your datacard or Internet pack on time. USB data-cards shows custom error message in such cases. If it's a LAN connection you can expect such an issue from yellow symbol in network connection indicator. Please check your network pack expiry date and recharge it.

No Power at connecting Modem: Broadband like connections have a modem supplied by Internet provider. In most case those modems need local power connection. Power failure to it results no Internet. Ensure that your modem has proper power connection. Power on the modem or change the power source and try.

Laptop or Desktop LAN port broken: Please try with another laptop or desktop before panic. If this is your case please contact with your Laptop or desktop service provider.
Software and Configuration Issues
Internet driver not installed: This is possible while you connecting a new laptop or desktop to your Internet connection. In Windows go to Network manager and check "Ethernet Device Adapter is available". Check with your software administrator.

IP address and other configuration Issue: Nowadays Internet service providers automatically configure IP address using their DHCP server. If this fails this type of problem may appear. Presence of yellow symbol in network connection manager indicates possibility of this problem. Contact your ISP to obtain correct IP valus. You can check your IP address and other connection details by typing "ipconfig" in windows "cmd" and "ifconfig" in Linux command line. This should be same with on from ISP.

Firewall Issue: Check your anti-virus and firewall settings. They may block your Internet connection or not. Try with restarting your firewall.

Check Internet connection is dead from ISP side or not: If none of the above helps please consult with your ISP. Ask connection is up from there side or not. Request them for a technical visit.
Internet connection is not working in Mobile Devices, Tablets etc
If you are Using Data Pack
No Signal or Very Low Signal: Check your phone have proper signal strength or not. Internet connection require good signal. Try browsing in an Open place.


Data Roaming is turned off: Smart phones have an option to stop network connection while roaming. In India internet packs works even in roaming. So, if you are in roaming, please turn off data roaming. Turn on internet then go to Settings–> More networks–> Mobile Networks –> Check "Data Roaming". Settings may vary in your devices. Consult device manual for correct settings.

Balance exhausted: Please check your Data and main balance. You may check this external link for USSD code in most of the Indian Telecom operators.

Low Battery: Some mobile devices stops internet while battery is low. Please charge your device and try once again.

Restart your device: Sometime Android devices just hang and stop network. Restart your device and try if works.

2G or 3G: Check your handset is currently in 2G or 3G mode. While 3G provide much better speed it's not available everywhere. If 3G is available please use 3G. Most handsets provides option to switch between 2G and 3G automatically [(WCDMA/GSM) auto connect]. If you are not sure use this option.

Try using a Different Browser: If your internet connection is very slow try using a different browser. It may be a browser configuration issue.

Try to open a Different Site: Ensure that the website you are trying to open is Up. Try to browse three to four alternate website. Consider checking with Facebook and Whatsapp messenger. Those are standard apps and works with even slow internet connection.

Try another handset: To ensure it's not a handset issue please insert your SIM to different handset and try again

If all above fails please consult Handset manufacturer and Network operator.
In case of using WiFi
Check WiFi is connected or not. This can be easily checked from WiFi connect button of your phone or Tablet.

Check distance from WiFi: WiFi doesn't work from too distance. So ensure that you are in working distance from WiFi terminal.

Sign In to WiFi: Some WiFi like IIT Bombay wireless, public WiFi in Station and Airport needs sign in. Please sign in using proper WiFi and password.

Restart your WiFi Router: It's better to try restarting your WiFi router once. Some WiFi routers have a tendency to hang while not in use for long time.

Ask help from WiFi administrator: Some WiFi routers are configured with hidden settings. You can't connect those without knowing exact configuration details from router administrator.
This discussion summaries some possible reasons why Internet may not work. Possible reasons are too vast. It's not at all possible to guess all of them without looking the actual situation. You may still leave comments or write us at "admin"@"serverlog.net" with your details. Thanks again for reading.
Hits: 119